Vietnamese rolls are refreshing, healthy, and delicious. You will love these delicious dishes from the first try. There are 5 delightful delicious Vietnamese rolls you must try when visiting in our country.
Nem Ran – Cha Gio (Nem Rán – Chả Giò)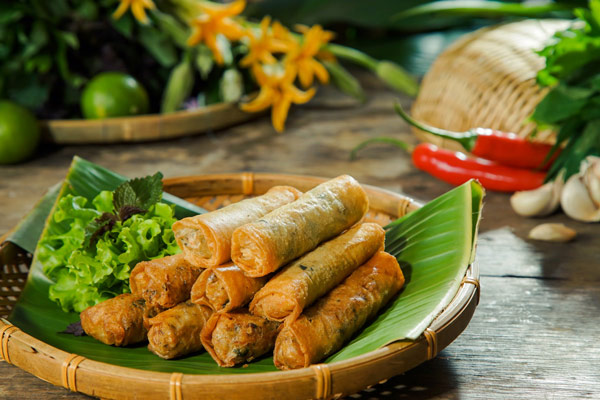 CNN vote nem ran is one of the 40 best dishes in the world (Source: Internet)
"Nem ran" is the word spoken by the Northern people to refer to the fried spring roll while the Southern people call it "cha gio". Vietnamese people make nem ran with the following ingredients: pork, mushrooms, Jew's ear, spring onions, bean sprouts, eggs, pepper, salt and some seasonings... You will enjoy the spring roll with herbs, lettuce, and the dipping sauce. The balanced combination of ingredients, spices and the color of spring rolls make it amazingly tasty food.
Goi Cuon (Gỏi Cuốn)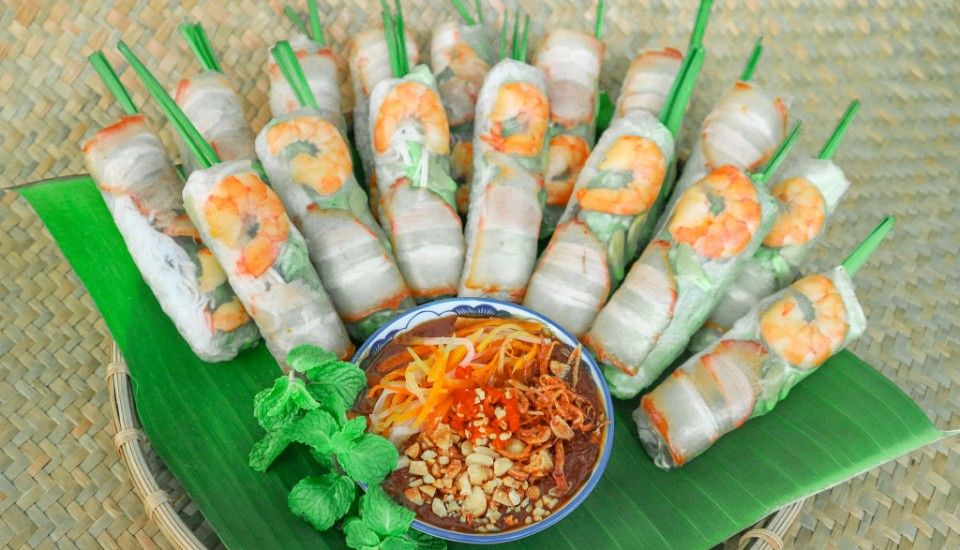 Goi cuon is fresh and healthy Vietnamese spring rolls (Source: itmydish.com)
This delicious roll is made with shrimp, pork, vegetables, herbs, and bun noodles wrapped in rice paper. Although it is easy to find delicious vegetarian versions made with tofu and mushrooms as well. The roll is either dunked in a bowl of nutty hoisin sauce or nước chấm. Goi cuon is bursting at the seams with freshness.
Nem Cua Be (Nem Cua Bể)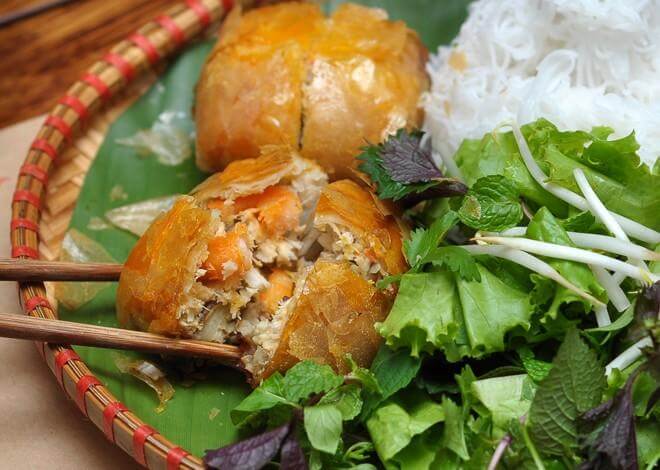 Nem cua be is so special, sweet, fragrant but not too greasy (Source: Internet)
Originating in Hai Phong City, nem cua be seemed not only to satisfy your taste but also bring you a little sunshine, a little sea breeze and even a little hardship of coastal locals. They stuff rice paper with crab meat, ground crab tile, lean pork, egg white, kohlrabi, carrot, ear mushrooms, bean sprout, rice paper and vermicelli. You should enjoy nem cua be with rice vermicelli, lettuce, chopped cucumber, and a sour spicy-sweet sauce.
Banh Cuon (Bánh Cuốn)
Banh Cuon is a popular breakfast or lunch in many parts of Vietnam (Source: Internet)
It is made from large round sheets of steamed rice flour, gathered around minced pork and wood-ear mushroom and gently folded and chopped. You will enjoy it with a side bowl of fish sauce with pork sausage. Enjoy it for breakfast or any time of the day, like a local person, you will fall in love with these delicious and delightful Vietnamese rolls.
Banh Xeo (Bánh Xèo)
Banh xeo is widely eaten around the south and central Vietnam (Source: Internet)
The name refers to the loud sound the rice batter makes when it is poured into the hot skillet. The batter made from rice flour, water, coconut milk, and turmeric powder. Some common stuffing includes as follows: pork, shrimp, diced green onion, mung bean, and bean sprouts. Enjoys with fresh herbs and dipped in nuoc cham dipping sauce before it gets popped in your mouth.