From September 19 to 22, 2023, Rita Company will participate in The WorldFood 2023 event in Moscow, Russia. WorldFood Moscow 2023 stands as a premier platform where food manufacturers and related service providers come together with buyers spanning retail, wholesale, and the food industry, as well as food and beverage distributors and exporters.
Notably, the WorldFood Moscow exhibition's primary advantage lies in its ability to connect with buyers across all major distribution channels. This year, over 1,000 companies hailing from 39 different countries are set to showcase their products across two halls within the Crocus Expo.
WorldFood Moscow 2023 - Unlock Investment Opportunities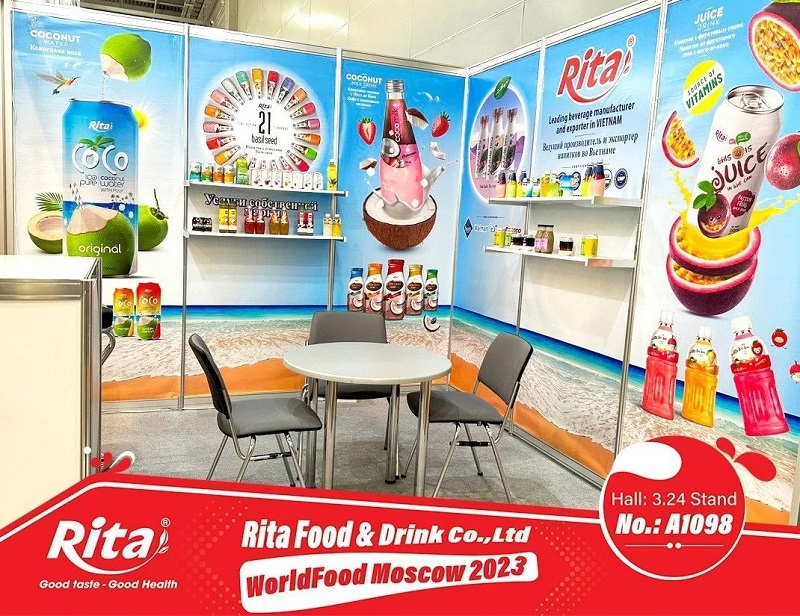 Rita Company's primary goal and aspiration at this upcoming fair encompass a multifaceted approach to achieving several key objectives. Our foremost aim is to identify and engage with fresh customer prospects keen on our offerings and establish potential partnerships that can foster mutually beneficial collaborations.
In addition to customer acquisition and partnership development, we are enthusiastic about using this fair to introduce our innovative products to a broader audience. Our commitment to innovation drives us to showcase cutting-edge solutions that can address the market's evolving needs.
Furthermore, participating in this fair provides us an exceptional opportunity to expand our horizons and explore new avenues for growth within the market. We are eager to leverage the fair's extensive reach to create a multitude of new opportunities that not only enhance our customer base and bolster our sales figures significanMoreover, we envisage this fair as a pivotal means to expand our sales territories within Russia. By forging new connections and strengthening existing ones, we intend to extend our market presence across various regions of Russia, realizing our full export potential.
Another crucial aspect of our participation is the invaluable opportunity to conduct comprehensive market research. We are committed to gaining a deeper understanding of market trends, consumer preferences, and the strategies employed by competitors. This insight will enable us to make informed decisions and adapt our approach for sustained success.
Furthermore, we anticipate gathering feedback from buyers and potential customers regarding our products. Their insights and opinions are invaluable for refining our offerings and enhancing their appeal in the market.
Lastly, this fair serves as a networking hub where we can meet with partners who share our vision and goals, further strengthening our relationships and exploring avenues for collaboration. Additionally, it provides a platform to connect with service providers who can complement our operations and support our endeavors.
Our confidence in meeting our expectations at this fair is rooted in our customers. We cordially invite you to visit our booth at
Hall: 3.14 Stand No: A1098
Time: Sep 19th – 22th,